COME ON IN !
SEE OUR GROWING GALLERY !
by clicking the Pantry door below -- >>>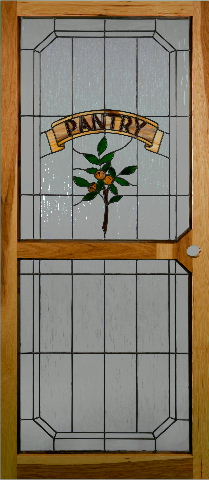 HOW TO ORDER
What is EVER SQUARE BONDED
(FAQ's) FREQUENTLY ASKED QUESTIONS
CONTACT US
EMAIL: marty@texasscreendoors.com
Marty Cantrell
Tel. 512-590-2956
Mailing Address:
PO Box 163592
Austin, Texas 78716
Ever Square Bonded describes our trademark method of joinery utilized in the manufacturing process for the screen doors made by Texas Doors & More.  Our process requires that the stile and rail members be butt jointed together using weatherproof adhesives and mechanical fasteners which is common in door construction.
Additionally our Ever Square Bonded method requires that the stile and rail joints be overlapped by a solid member of the material being used and then be laminated in place to provide additional strength. This overlapping Ever Square Bonded joint ensures that the joint cannot break down and weaken.
EVER SQUARE BONDED IS THE SOLUTION 
Common problems like sagging, dragging, twisted and misshaped doors are the result of joint failure from poor contruction in most cases and the Ever Square Bonded methodology of manufacturing keeps doors square and therefore eliminates sagging, dragging, and misshapen doors.
Texas Doors & More is exceedingly skilled with the overlapping and permanently bonded methodology on all structural intersections of each of the stile and rail doors, screens, and gates made in our facility.  This ensures that the doors, screens and gates are the most long-lasting, durable and structurally stable products in the market today.